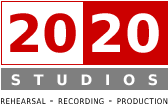 Providing a full range of musical services. Studio, Live & Location Recording, Mixing, Mastering. PA Hire & Events
Industry standard analogue and digital hardware available, also a range of popular software plugins for use with Avid Pro Tools - although we use the industry standard format that is Protools, we can accept and convert sessions tracked in other software formats. Likewise, we can consolidate our sessions into wavs to suit any other format such as Logic, Nuendo etc.
Full production for all kinds of music, bands, voiceovers, dubbing, mixing, adverts, soundtrack and jingle work, etc. 32 Track Simultaneous Recording - Unlimited tracks available.
Mobile and Live / Location Recording available now - Record your gig !! Great for demos events or promotions etc. Just tell us where and when. Engineer and all equipment included, multitrack desk, ProTools system, microphones, leads etc - we can run whole FOH for you for the gig, or sit along side your usual set up. POA call / email for details.
Pre production - record sessions and playback for scrutiny ! Hire by the day.
PA Hire - Need gear quick for gigs or for a full on event ?- Quality PA and equipment hire available. HK Audio, JBL Pro, etc from 500W to 5kW indoor and outdoor. Easy load in/out. Hire per day. Full weekend hire available.
Event Managment - We can provide full event managment for all your equipment needs including, sound, lighting, stage and power. With or without engineers and techs. Full liability insured. Contact us for pricing